Interested in visiting? We're eager to have you! Sunday morning service starts at 9:30 a.m., followed by Sunday school. Here's what you can expect on a Sunday morning: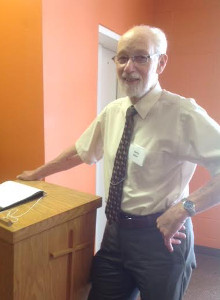 Welcome! There is plenty of parking behind the church and in the lot south of the building. Enter the church through the back door, someone will be there to greet you.
9:15 – Preservice music Prairie Street is a musical congregation. Join us 15 minutes before the beginning of the service for music from our worship team or congregational singing.
9:30 – Sunday worship Sunday morning services start at 9:30 and usually go until about 11. For those that need it, the church is handicap accessible. Spanish speakers are welcome to listen to a translation of the service into Spanish. A Spanish-language Sunday school class is also available. Would you like to catch up on a previous Sunday? You can listen to our podcast here.
Bringing children? Prairie Street is child friendly! We have a staffed nursery available during the service, or if you prefer children are welcome in the sanctuary. We don't mind a little noise.
11:00 – Fellowship 15 After our worship service we gather for about 15 minutes of fellowship – coffee, juice and informal conversation. It's a chance to catch up with other Prairie Street members and meet new people.
11:15 – Sunday school Prairie Street has a number of Sunday school classes for people of all ages. You can find a list of the current offerings in the bulletin. Feel free to ask for directions to where any of the classes are meeting.
12:00 – Potluck! We're a church that also loves to eat together! All are welcome to potluck meals the first Sunday of the month. In the fall we have meals every Sunday after Sunday school hosted by small groups that visitors are welcome to.
Come join us as we joyfully follow Jesus!